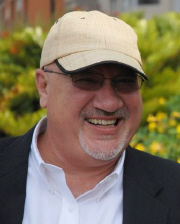 TampaBayRay@kw.com
20701 Bruce B. Downs
Suite 200
Tampa, FL 33647
Office: (813) 994-4422

Cellular: (813) 928-3800
Personal Fax: (813) 354-2605
VText 813-928-3800

---
---
My Other Website
***Ray serves all areas of Tampa Bay-- specializing in University of South Florida and corporate transferees. He knowledge of the entire Tampa Bay area is truly astounding, earning him the nickname "Tampa Bay Ray". ***He also is considered an expert on horse farms --having been a competitive and recreational horseman since his youth.


***1977, Ray began his real estate career in Park City, Utah selling ski resort condos--later owning his own company there . ***1983, moved to New Orleans for a management position with a major, national real estate company. Promoted to Chief Operating Officer and Broker for 450 associates in 10 offices. ***1986, joined a major Relocation company in Connecticut and designed relocation packages for corporate clients nationwide. ***1993, moved to Tampa to return to Branch office management and eventually consumer sales--a position where Ray thrives doing what he enjoys most.


***1970, Graduated from Fairleigh Dickinson University, Madison, NJ with a BS in Business Administration ***1971, Graduated from USAF Officer Training School in San Antonio, TX ***1972, Graduated from USAF Flight School with Instrument Pilot rating. ***1977, Completed initial real estate courses for Utah Real Estate Salesperson ***1979, Completed Utah Broker requirements. ***1980, Awarded GRI--Graduate, Realtor Institute ***1983, Completed Louisiana Broker requirements. ***1987, State-Certified as Louisiana Continuing Education Instructor. ***1989, Completed Connecticut Brokerage requirements. ***1992, Awarded "Series 7" license by National Securities Exchange Commission ***1993, Completed Florida Real Estate Salesperson requirements ***1997, Completed Florida Real Estate Brokerage requirements ***1998, CRB--Certified Real Estate Brokerage Manager ***1999, Graduated "Leadership Tampa" program


While Ray has earned numerous professional designations, accolades, and national awards and has served the real estate industry in many ways, it is his work in his community that he finds most rewarding. A Leadership Tampa alumnus, hes been involved with Habit for Humanity building affordable housing for people in need; Hillsborough Education Foundation Scholarship Fund raising college scholarship money for children at risk; the Divine Providence Food Bank fund-raising for area soup kitchens; and The Spring of Tampa Bay helping abused families find new life. Additionally, he continues to devote countless hours to the young equestrians of The United States Pony Clubs, Inc. Despite his busy schedule, Ray will always find time to attend University of South Florida (Go Bulls!) football games. He spends precious remaining time with his wife of 33 years, Kathy French; cherishes close friends; and loves to cook.


Residential - relocation and Residential - single family home resales


English


http://fl.living.net/REALTOR/1075804

This page has been visited 1,023 times.
---
Page generated July 3rd, 2020 7:24 p.m. EST



The Living Network® is an information service owned and operated by Florida Realtors®. Copyright © 1995 - .   All rights reserved.
Request for technical support for the Florida Living Network pages(s) can be sent to: support@techhelpline.com. Members can call the Technology Helpline for technical support at: 407-587-1450.
Be prepared to provide your REALTOR® license number. The Technology Helpline is available: Monday - Friday from 9 a.m. - 8 p.m. and on Saturday and Sunday from 9 a.m. - 5 p.m.
Terms Of Service &nbsp Privacy Policy