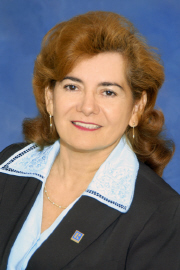 soniagalarza2002@yahoo.com
6615 Sheldon Rd
Tampa, FL 33615
Office: (813) 968-2221

Phone: (813) 413-4919
Cellular: (813) 426-7360
Personal Fax: (813) 968-2224

---
---
Con 22 años de experiencia profesional en Bienes Raices en Ecuador. Master en Administracion de Empresas Constructoras e Inmobiliarias, Abogada , Consultora de Bienes Raices, Asesora de Creditos Hipotecarios


Stand Externa de Perito Avaluadores del Banco Central del Ecuador, Sucursal Mayor Guayaquil,Stand de Peritos Avaluadores de Agencia de Garantia de Depositos AGD, Stand de Peritos Avaluadores de Corporacion Finaciera Nacional, Jefe de Ventas Edificio Torres Atlas, Jefe de Ventas Edificio Las Camaras, Proyectos de Viviendas del Banco Solidario, entre otros Proyectos en Ecuador. Realtor de la Florida.


Licenciada en Ciencias Sociales y Politicas, Abogada de lo Tribunales de la Republica del Ecuador, Master en Adminstracion de Empresas Inmobiliarias, Perito Avaluador, Corredora Profesional de Bienes Raices. - Presidenta de la Asociacion de Corredores de Bienes Raices del Guayas. - Presidenta Comision Academica de ACBIR - Delegada por Ecuador a la Asociacion Americana de Corredores Inmobiliarios - Conferencista Delegada, en varios Congresos Internacionales Inmobiliarios.


Cuento con una amplia experiencia para ayudarte a que no solo compres una vivienda, sino tambien a que planifiques tu compra, para que la disfrutes a plenitud en union de tu familia.


Residential - new home sales and Residential - single family home resales


English and Spanish


http://fl.living.net/REALTOR/1275260

This page has been visited 939 times.
---
Page generated July 23rd, 2019 6:03 p.m. EST



The Living Network® is an information service owned and operated by Florida Realtors®. Copyright © 1995 - .   All rights reserved.
Request for technical support for the Florida Living Network pages(s) can be sent to: support@techhelpline.com. Members can call the Technology Helpline for technical support at: 407-587-1450.
Be prepared to provide your REALTOR® license number. The Technology Helpline is available: Monday - Friday from 9 a.m. - 8 p.m. and on Saturday and Sunday from 9 a.m. - 5 p.m.
Terms Of Service &nbsp Privacy Policy